7th District
Division 8 Flotilla 8-7
Englewood, Florida
(Lemon Bay -- Placida Harbor on Florida's Gulf Coast)


Boating Safety Instruction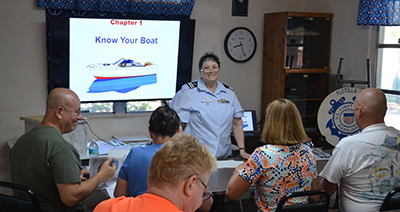 About Boating Safety at Flotilla 8-7
Our Boating Skills and Seamanship (BS&S) course is a 14 hour comprehensive course designed for both the experienced and the novice boater. The course, now in its 14th edition was published in 2013. The course consists of six core required chapters. There are also six additional chapters on various subjects that are taught in other classes listed below
This course qualifies for both Coast Guard and FL Certification.
Classes Start 02/19/18 End 03/01/18 from 6:30-9:00 pm.
Schedule 02/19/18, 02/20/18, 02/22/18, 02/26/18, 02/27/18, 03/01/18
Classes Start 04/16/18 End 04/26/18
Schedule 04/16/18, 04/17/18, 04/19/18, 04/23/18, 04/24/18, 04/26/18 $50.00/$65.00 per couple.
For further information contact our Education Officer. FSO-PE

The captain of a vessel becomes incapacitated or falls overboard. You are the obvious person to take over, and you are Suddenly In Command. This boasting safety primer is designed for those not generally at the helm, and will help you to be prepared with the basics in case of an emerfgency. It's a "wake-up call" for your reponsibilities. You will learn about your vessel, and operating principles. Also included are descriptions of boating mishaps, how to minimize them. Misfortunes occurs in seconds, and you have the rest of yiour life to be grateful that you knew what to do because you were prepared. Class meets 1/22/18 7-9 pm. $15/$25 couple.
$15.00/$25.00 per couple For further information contact our Public Education Officer FSO-PE

The Weekend Navigator seminar is designed to give the student the rudiments of navigation by using GPS, and the back-up skill of navigation using charts, navigation plotting tools, and dead-reckoniong. The intent is to provide the student with a solid foundation with emphasis on technique and not blind reliance on electronics. This seminar is designed for students desiring to learn fundamental nautical GPS skills. Basic navigation skills are included to the extent required to understand GPS operations. The course includes basic functions of the GPS chartplotter. The student will develop an understanding of the general architecture on how all GPS's operate, and will enable the student to adapt to the small differences between brands and models.. The student will have minimal skills to navigate to a safe harbor in the event of a GPS failure
Class Meets 03/0716, 03/08/17 GPS
03/21/18, 03/22/18 Charting
For further information contact our Public Education Officer
FSO-PE
The FWC Course. Meets 04/07/18 9:00am - 4:00pm.
Class meets 12/2/2017 9:00am-12.00pm. For further information contact our Public Education Officer FSO-PE