7th District
Division 8 Flotilla 8-7
Englewood, Florida
(Lemon Bay -- Placida Harbor on Florida's Gulf Coast)


The links on this page are for USCG Auxiliary Members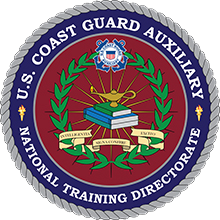 Members have a variety of training courses available to prepare them for participation in the various activities of their choosing in the Auxiliary. This training is conducted, for the most part, at the flotilla level or online. However depending on local arrangements, and the nature of the course, they may also be presented at the division, district, and even the national level, as "C" schools. Click here to access National Department of Training. Click here for the National Testing Center.
Members who are interested in the crew training program need to successfully complete Incident Command System courses IS-100 and IS-700 offered on line by the Federal Emergency Management Agency (FEMA). Members wishing to become qualified coxswains need to successfully complete incident Command System courses IS-200 and IS-800 offered on line by FEMA. Click here to access FEMA's training resource center. IS-210 or IS-300 is also required for Coxswain qualification, which are only offered in a classroom setting.
Student and Instructor Guides are available from the Auxiliary National Supply Center (ANSC), please contact your Materials Officer. Course manuals are available online: Click Here.
Member Training Schedule at Station Englewood 2017
Sessions Begin at 0900
01/18 - Introduction to Boat Crew manual Chapter 1-7
&nbsp &nbsp &nbsp &nbsp &nbsp &nbsp All crew and coxswains are requested to attend this meeting,
&nbsp &nbsp &nbsp &nbsp &nbsp &nbsp bring your Flotilla isssued equipment i.e. PFD\PPE's etc.

01/25 - On the Water Training *

02/01 - Boat crew Training Outline

02/08 - On the Water Training *

02/15 - Boat Handling and Knots

02/22 - On the Water Training

03/01 - First Aid BCM 02-01 thru BCM 02-07

03/08 - On the Water Training

03/15 - Emergency signal mirror, usxe of flares, PLM's, survival in
&nbsp &nbsp &nbsp &nbsp &nbsp &nbsp the event of capsize of vessel

03/22 - On the Water Training *

03/29 - Use of fire extinguishers, knots, securing lines to cleats

04/05 - On the Water Training *

04/12 - Navigation lights, sound signals, achart nomenclature

04/19 - On the Water Training *

04/26 - Operation of Marine VHF Radio

05/3 - On the Water Training *


0510 - Aux Op Patrol

Please note * &nbsp &nbsp OWT training will be held if there are two boats available

All current Boat Crew and Coxswains are encouraged to attend all classes for review of their current skills.
The newly developed member-training Coast Guard Auxiliary Virtual Classroom is: Click Here.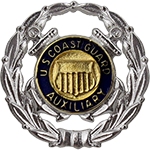 AUXOP Training
The AUXOP, or Operational Auxiliarist, program is an advanced training program available to members of the Coast Guard Auxiliary. An AUXOP member has completed the advanced specialty courses and is entitled to wear the special AUXOP device on the uniform. The AUXOP Specialty courses also provide an excellent foundation for the Boat Crew and Coxswain program. Requirements for AUXOP have changed on 01 January 2011 and now include leadership and Incident Command System options in place of some of the traditional courses. Click here or contact the FSO-MT for information and clarification.
Obtaining AUXOP training requires the Auxiliarist to make arrangements to get the study material and to register for any class instruction that may be available. AUXOP specialty courses may be taken either as formal courses or by self-study. The study guides and other documents available from the National Training Dept.
The following are the six specialty courses. Click on any one of them and get more information on that course:

Other Auxiliary Training
While the above programs are important to your growth as an Auxiliarist, the following training makes you a more productive member of the Flotilla almost immediately upon completion. Click on any one of them and get detailed information on that course.
Two other very different courses are required to be completed in order to enter into specific activities.
Administrative Procedures:
This course focuses on the Auxiliary Manual and provides a foundation for information needed for elected officers at the flotilla and division levels. Successful completion of the APC course is a prerequisite for any elected office. The Auxiliary Manual is the sole text for the course. The test is open book or may be taken online. A passing grade of 90% is required.
Navigation Rules:
In order to qualify as a coxswain a member must go through the coxswain training and also must pass the proctored NavRules written exam (passing score is 90%). Although this is required for coxswain qualification it is separate from the coxswain training. Once the member passes the proctored exam he must recertify his NavRules standing every five years. The recertification test is an open book exam and can be done online. If you take the AUXSEA course you will get a good start on the NavRules. So, if you are thinking about someday becoming a coxswain it will save you some time if you study the NavRules manual and take that exam soon after the AUXSEA exam.
Auxiliary C-Schools:
Take advantage of available C-Schools to increase your knowledge and skills. Your travel and living costs are paid by the Coast Guard. The class sizes are limited so plan for them well in advance and submit your requests early. Completion of C-Schools will benefit you and the Coast Guard. Click here for the C-School web site showing schedules and information on courses offered.