7th District
Division 8 Flotilla 8-7
Englewood, Florida
(Lemon Bay -- Placida Harbor on Florida's Gulf Coast)


History of Flotilla 8-7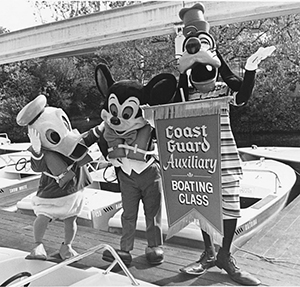 Safe Boating Class at Disney World
Two past Flotilla Commanders, Judy Abbott and Skip Wilson, headed up a major search through old records in 2008 to document the history of the Flotilla. They then summarized their findings in a PowerPoint presentation.
Looking Backward - 1961 to 1981
Webmaster's Note: The following is a copy of a letter found in an old Flotilla file. The author is James A. Jackson, Flotilla Commander in 1971, and was apparently written to commemorate the 20th anniversary of the Flotilla. It is reproduced here in its original form-- a spell check was performed though. It provides a good perspective of our early history. It is featured in the PowerPoint presentation mentioned above..
"On this occasion commemorating the organization of Englewood Flotilla, U. S. Coast Guard Auxiliary in January, 1961, I will try to pass on a few highlights of the 20 years. Some of these are gleaned from the records of the Flotilla Historian, started and kept for many years by Thelma Bonnell and now in the hands of Gloria Peters, but since that office only goes back part of the time, some of them must come from my memory which goes back to 1963, a year before I became a member. In looking over the records, I find that I am the oldest active member both in years and membership in this Flotilla; Jack Barry beats me by ten years in Auxiliary membership, but he is a relative johnny-come-lately in local membership compared to me.

It may be news to many - it was to me - that this Flotilla has been in three different Divisions. It was originally chartered as Flotilla 14 of Division VII on January 7, 1961. Charter members were Arthur Patrick, first Flotilla Commander, Charles Gasali, Walter Basch, Margaret Patrick, Charles Allen, Donald Basel, Richard Butler, Lucille Butler, Paton Edwards, Helen Edwards, James Fox, Rose Fox, Ely Lasky, Vira Lasky, Marshal McDonald, Harry Merrill, Douglas Merrill, Nancy Merrill, Lester Perry, William Robinson, William Troendle, James Whitlock, Helen Whitlock, Wair Alexander, Alexander Duncan, William Herdman, Winifred McConnel, Karl Shaver, Walt Sides, Earl Slaybaugh, and Kathryn Young. Note that eight of the 33 were women - Englewood started off early in that respect."

Unfortunately, records and minutes of those early days have not been preserved, so detail of the very early years are sketchy. In those days there were three elected officers Flotilla Commander, Flotilla Vice-commander and Flotilla Training Officer. The latter took care of both member training and public education programs, such as they were. My first experience with this Flotilla was early in 1963, when I started the eight lessons of the safe boating course given at that time; I took four lessons here and finished in Tavares. Public education was sort of hit-or-miss in those days. No training nor qualification was required to be an instructor - and that lack was clearly evident. Anyone they could commandeer got to teach. There was much reliance on movie films and slides - for its day it was a fine effort out in the light of today's specializing and training, it looks pretty primitive. When I applied for membership early in 1964, I was asked what I wanted to do in the organization and I replied "Anything." "Did you ever do any teaching?" "No." "Can you talk before a group on your feet?" "Yes." "Well, how about teaching Legal Requirements two weeks from tonight?" And that was my introduction, before I was even BQ'd and sworn in!

I do not recall much about the Vessel Examination program in those days. There was a program in existence, but not much effort was put behind it; Vessel examiners had to dig out for themselves what was required and how to go about making examinations.

Operations were about as sketchy. I don't recall that anything was required beyond having a boat accepted as a facility. Very few had radios - some CB's and a few AM ship-to-shore sets. No specifications for required equipment or skipper expertise existed. Our contact with Coast Guard was thru Ft. Myers or St. Pete IF we could raise them on radio. I remember an early SAR In which the ADA MARIE, a charter boat out of the White Elephant - Captain's Club to you newer members - became fog bound out in the Gulf with a fishing party aboard. Marshal McDonald, who was Flotilla Commander that year if my memory serves me right, went out to Stump Pass in his boat and guided ADA MARIE in by using his horn. In those days there was no ICW and working up and down Lemon Bay called for a good knowledge of the zig-zagging channels back and forth across the bay.

Uniforms were khaki and not used too much except, for official occasions. We had never dreamed of AUXMIS with all its accompanying paperwork and "brownie points" as the credits for various services came to be called. It was primitive - BUT rescues did get made, people did get taught the rudiments of safe boating, and the fellowship was fine.

I don't know at what point Flotilla 7-14 became Flotilla 9-7. I believe it must have been very early for I am quite sure that I joined 9-7. Our membership extended to North Port and Cape Haze. Somewhere between 1964 and 1966, I think, we sponsored the formation of a Flotilla at North Port and thereby lost several of our most active members I do recall our going over there to help teach public education classes In the early days of 9-2. In 1973 we sponsored Flotilla 8-9 at Rotonda West, and lost some more active members.

Over the years the various segments of our activities have been refined, beefed up and have reached maturity. Vessel examiners are now required to study, pass an examination and examine five boats under supervision before they can go out on their own. Instructors are required to study, pass an examination and maintain a certain degree of continuing study to remain qualified to teach. Both vessel examiners and instructors must attend at least one seminar annually. For a time instructors were required to each a certain minimum number of hours annually, but this was dropped. Both programs now receive substantial support and guidance from Division and District. Much more emphasis is put on advanced member training and we now have eight members who have passed all seven advanced specialty courses and have become Auxops, with more on the way; we have many other members who have qualified in one or more, especially patrols, search and rescue and communications.

In 1970 Division VII was formed, centering In Sarasota. This gave us a much closer touch with higher echelons in the Auxiliary, which has steadily increased as more and more insistence has been put on "going thru channels" instead of any Auxiliarist feeling free to write to Director of Auxiliary to ask questions or express opinions. We have become increasingly more organized at both local and higher levels. And with that has come AUXMIS, paper work and more paper work. During that same time the Auxiliary as a group took over more and more of the Coast Guard's search and rescue work, reaching a point of competency where participation in Operation Keyring in the Keys, and quick and continuing emergency responses in incidents like the Blackthorn sinking and the Skyway Bridge disaster became a matter of- course. We sent Deputy Dog and Lotta Joy to the Keys to work during the Cuban sealift.

With the building of the Intracoastal Waterway, boating activity bloomed in Englewood, and with it, the number of calls on our Flotilla for search and rescue work increased greatly. In the early days of AM radio, it was so unsatisfactory in our area that we were able to get Coast Guard to accept CB radio backed up by a land based station as fulfilling the "new" requirement that "operational" facilities be radio equipped. Most of our work was in the Bay. When VHF radio began to be pushed, everyone here said "No way are we going to get many of our folks to spend that kind of money." Suffice it to say that our 1981 roster lists 41 facilities; all but five of which are VHF equipped, and we have a dozen land based VHF stations to back them up. We were growing up - and fast. In the past couple of years, Coast Guard Station Cortez has handled more than 1,000 SAR cases annually; of those Division VIII Auxiliary has taken care of more than 50% and Flotilla 8-7 about 20%, or 40% of all cases handled by the Division. We have instituted scheduled safety patrols and radio watches and sent many of our members to receive Coast Guard training in boat operation and watchstanding at Station Cortez. We feel that something is wrong if a year passes without one or more of our members receiving awards from Coast Guard for saving a life; we have established a reputation with Station Cortez that, within the limits of our capabilities due to size, we can handle almost any emergency job they ask us to; we have been sent to Boca Grande, Charlotte Harbor and Venice both in the Gulf and the ICW on several occasions. And on quite a few jobs we have worked directly with a Coast Guard vessel in various SAR's.

Our membership has increased from the original 33 to an average in the 80's; we have earned awards for performance in many areas of Auxiliary activity. Two of our Flotilla Commanders have moved up to Division Captain and then to District Rear Commodore; last year's Flotilla Commander is now Division Vice-captain; and we have furnished many Division staff officers and one District staff member - I was the first having been SO-PE the year Division VIII was organized, and ADSO-OPU for more than a year. Jack Dalton was president of the Past Captains Association for several years and had much to do with distribution of surplus Coast Guard equipment for Flotilla use. Many of our members are taking advanced study courses in various specialties, and we have eight members who have passed all such courses and are AUXOP's -with more on the way. All in all, Englewood Flotilla 8-7 is on the map (or should I say chart), alive, kicking and headed for great things in future.
End of letter by James A. Jackson, FC