7th District
Division 8 Flotilla 8-7
Englewood, Florida
(Lemon Bay -- Placida Harbor on Florida's Gulf Coast)


Boating Safety Instruction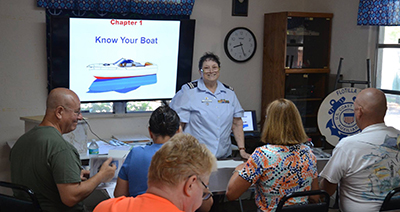 About Boating Safety at Flotilla 8-7
How to Boat Smart approved by NASBLA.
The 3 classes are 2 hours each and meet 3 consecutive evenings plus an exam. 6PM to 8 PM. Topics include Knowing the various Boats, What to do before getting underway, how to operate your boat safely, legal requirements of boating, boating emergencies and what to do, and enjoying water sports. There is an exam at the conclusion of the class. This course provides a wide variety of information, including: General information on boats and boating and Florida laws and regulations. In general the material applies to all vessels including wave runners, sailboats and motor boats plus kayaks and canoes. This course is required for all boaters who were born after January 1, 1988, and will qualify for boaters who have been judged to need a classroom course due to a boating infraction.
Cost $15.00 per person, please register a week prior to the class For further information contact our Public Education Officer FSO-PE
Our Boating Skills and Seamanship (BS&S) course meets 4 consecutive evenings from 6 PM until approximately 8 PM. BS&S is a comprehensive course designed for both the experienced and the novice boater. The course consists of two core chapters each session, and concludes with a compehensive review and an on-line exam. Topics include: operating tips, markers, buoys and directional markers, rules of the road, intro to Navigation, Weather, Boating Laws in Florida, and a review and exam. Students need to acquire their own book. The Book, (Boating Skills and Seamanship, 14th edition), Amazon sells it new for $20.49 plus shipping, it can also be purchased as an ebook and is available discounted or used on Ebay

Cost $35.00 per person. This course qualifies for both Coast Guard and FL Certification


For further information contact our Education Officer FSO-PE
The class schedule:

Class 1 General Boating*; Boat Handling
Class 2 Highway Signs; Rules of the Road
Class 3 Intro to navigation; Safety
Class 4 Weather; Class Review; Exam

* General Boating is a mixture of Chapters 1, 2, & 3

The captain of a vessel becomes incapacitated or falls overboard. You are the obvious person to take over, and you are Suddenly In Command. This boating safety primer is designed for those not generally at the helm, and will help you to be prepared with the basics in case of an emergency. It's a "wake-up call" for your reponsibilities. You will learn about your vessel, and operating principles. Also included are descriptions of boating mishaps, how to minimize them. Misfortunes occurs in seconds, and you have the rest of your life to be grateful that you knew what to do because you were prepared.
Cost $15.00 per person. For further information contact our Public Education Officer FSO-PE

The Weekend Navigator seminar is designed to give the student the rudiments of navigation by using GPS, and the back-up skill of navigation using charts, navigation plotting tools, and dead-reckoniong. The intent is to provide the student with a solid foundation with emphasis on technique and not blind reliance on electronics. This seminar is designed for students desiring to learn fundamental nautical GPS skills. Basic navigation skills are included. The student will learn about charts and develop hands-on skills to navigate to a safe harbor in the event of a GPS failure

NOTE. This class is not currently being offered on-line For further information contact our Public Education Officer FSO-PE

The focus of this course is hurricane preparedness and deals with how a boat owner should respond to the forecast of a storm of some intensity coming to our area. What to do first and how big a storm is too big? Topics include strengths of storms and what to expect, value of Marine Insurance. Making a plan. Is it OK to leave the boat where you usually keep it.? Where your boat will have the best chance of survival. How to prepare and secure a boat on a dock, on a lift, on a trailer. Understanding that sometimes there is nothing you can do. If you have a loss, what you need to file a claim

Cost $15.00 per person For further information contact our Public Education Officer FSO-PE
GPS for Mariners is a 2 session modern learning experience that focuses on the GPS equipment typically owned by the recreational boater. This course is approved by the Coast Guard Auxiliary. The course covers the genesis of GPS and chartplotters and concludes with a hands on session using Garmin Chartplotters. The student will develop an understanding of the general architecture on how all GPS's operate. There is only a small amount of navigation introduced as a part of this class, but participants will come away from the course with an understanding of the benefits and also pitfalls of marine electronics in a salt water environment. Students need to acquire their own book: (GPS for Mariners 2nd Ed). Amazon sells it new for $21.00 plus shipping, it can also be purchased used on Amazon and Ebay for much less money.
Notice. All our Coast Guard Auxilliary classes are being offered on-line until further notice. Once you register by clicking the Registration link you will receive the link to join the class. These classes are interactive Zoom sessions and interactions with the instructor are encouraged.
For further information contact our Public Education Officer
FSO-PE
Registration for Our On-Line Courses