7th District
Division 8 Flotilla 8-7
Englewood, Florida
(Lemon Bay -- Placida Harbor on Florida's Gulf Coast)


USCG Auxiliary Offering Free
Vessel Safety Check (VSC)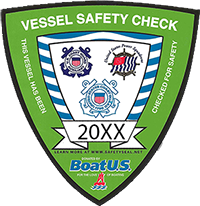 USCG Auxiliary Vessel Examination Decal
Pledge to boat safely each and every time you go out on the water, keeping yourself, your family, your friends, and fellow boaters from harm's way. Take the pledge -Make this summer safe- Safe Boating Campaign
The Vessel Examiners who perform these checks are specially trained Auxiliarists who are kept informed on the latest legal requirements for boaters. Click here to access the VE web site.
A VSC is performed on PWCs, on pleasure vessels less than 65 feet, and on some commercial vessels which are not inspected or certified by the Coast Guard. Auxiliary VSC requirements parallel Federal regulations with regard to equipment to be carried aboard and the general condition of the boat.
The results of the VSC are told only to you. It is a learning experience so you can enjoy your boating in a safer manner. Vessel Examiners have no legal authority. Their goal is to prevent boaters from getting equipment-related citations and to prevent safety-related accidents. The Vessel Examiners will check for required safety items on your boat and if everything is present and in good working order, they will award a decal to affix to your boat (see above). If you wish, they will also explain the reason for the various safety equipment requirements and explain how safety equipment works. If your boat does not pass, just schedule a second examination. Click Here for a list of the equipment required.
Besides the feeling of satisfaction in knowing your boat is safe and prepared, the boat displaying the Coast Guard Auxiliary "Seal of Safety" on its port windshield signals to the boating world that a responsible skipper cares about having a safe boat. While no guarantee, often the Florida Marine Patrol, local marine sheriff and Coast Guard personnel will pass up a boat with a current VSC decal when conducting routine boardings. Also your passengers will know that your boat meets Federal and State safety equipment requirements. Many insurance companies offer discounts on boat insurance to individuals whose boats pass this check.
Contact FSO-VE and he will have an Auxiliary Vessel Examiner contact you. In most cases the Examiner will meet you at your boat or inform you of the time they will be on duty at a local boat ramp or marina.