7th District
Division 8 Flotilla 8-7
Englewood, Florida
(Lemon Bay -- Placida Harbor on Florida's Gulf Coast)


Operations

Facility Seal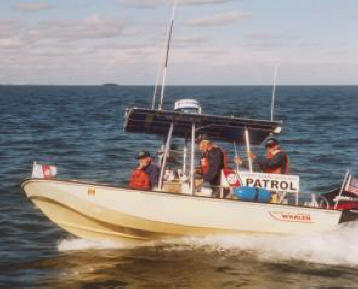 A Patrol Crew on the Job

Coxswain Badge
The purpose of the Auxiliary Operations program is to assist the Coast Guard in their non-military, non-law enforcement activities on the waters of the United States. Auxiliarists conduct these operations in specially equipped, privately owned power boats and sailboats. In addition, selected Auxiliarists serve as crew members on Coast Guard vessels and aircraft conducting safety, search and rescue, and pollution patrols.
Each year members of the Auxiliary throughout the country conduct safety patrols, search and rescue, and other missions for the Coast Guard on their local waters. These provide assistance to an average of 25,000 boaters in distress and help save almost 500 lives annually.
In qualifying as a coxswain, crew, or radio watchstander, you will receive specialized training. This training provides the necessary skills and confidence required to take on the challenges of safely accomplishing operational missions. Flotilla 8-7 serves under U.S. Coast Guard Station Cortez, under direction of U.S. Coast Guard Sector St. Petersburg.
These activities include:
Search and Rescue missions.
Perimeter security for regattas and marine parades.
Support transport missions (personnel and supplies) during natural disasters.
Verification of Aids to nav on routine checks and after severe storms.
Radio watchstanding in support of Auxiliary and Coast Guard activities.
Our Flotilla patrols Lemon Bay looking for boaters in need of help. This includes excursions out Stump Pass and into many of the bays and inlets that surround Lemon Bay. When our neighboring flotillas in Rotonda and Venice are in need of help we frequently assist in covering their areas too. The patrols are done with privately owned but specially equipped boats under operational orders from Station Cortez. Personnel aboard includes a certified Auxiliary coxswain and at least two certified crew.
Flotilla 8-7 has a reputation for fast, effective response when a boater is missing or otherwise in trouble, 24/7. Our people are regularly on the water with a fully equipped boat, crew, and land-based radio online within a very short time of being alerted by Station Cortez. This is possible because of the direction provided by Team Coast Guard, the demanding training required in this Flotilla, and the highly dedicated personnel that are involved in this area. We annually train additional coxswains and crew members and offer marine VHF communications training for radio watchstanders who are equipped with operational land bases.